Over at
Stirrup Queen
she noted on Sunday that Monday was Microblog Monday. I had the best idea for it! But life was chaotic yesterday, in the best way, and I wasn't able to fire up the lap top. (wah, wahh, wahhhhh)
The purpose of Microblog Monday is to basically have a status but in your own personal blog verses writing it on say Twitter or Facebook. Seems like a fun idea & I wanted to give it a try...This is what I wanted to share yesterday.
It might actually be cheating by just posting a quote but I really enjoyed this quote that I got from Runner's World in my inbox the other day. I think it's a great quote not just for running but for life. Every battle we fight is for our own personal victory. Choosing to move mountains with our health and fitness goals. No one is going to give you a medal or money when you lose 80lbs, or 40lbs, or even 5lbs (Unless your on the Biggest Loser of course). Strive to find your own rewards and keep moving forward.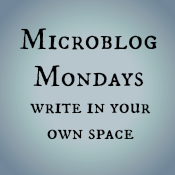 That was going to be Monday's post. I'll have to try again either next Monday or the next time Microblog Monday roles around.
For fitness Tuesday, another short post. We are T-Minus 5 days from the half. I'm nervous and excited, and confident, and worried all at the same time.
I know I have it within me to accomplish this task. But what if I choke? I'm confident because I feel good at this point in my training. I feel like I am stronger , better, more prepared, but what if I something happens? I get injured during the race, I become sick now and then. Total self-disclosure, I think I'm fighting off a mild case of food poisoning. I DO NOT feel well today. ::Sad face:: I did go to yoga & I am now drinking a
Truth
drink from yoli. It's suppose to be chalk full of Vitamin C, so hopefully this helps. My aunt & uncle swear by it, they say it always makes them feel better.
With that said, here are some other things that might help you feel better, that fall within the Allergen Friendly gut friendly diet. Ya' know...things you won't get food poisoning from.
My Allergen Friendly Homemade(ish) Pizza::
1 package of Bob's Red Mill Gluten Free Pizza Dough
1 jar of the pizza sauce of your choice (I went with a gluten & soy free option)
1 package of Dayia Mozzarella "cheese"
2 large skinless, boneless chicken breasts
1 tbsp olive oil
Seasonings of your choice I went with 1tsp each of basil, garlic, onion, parsley, thyme.
Make pizza dough according to package...Important note, the yeast and warm water go in a separate bowl before adding in the flour.
While dough is rising/baking in the oven add olive oil to a pan. Slice chicken breast, season, and toss in skillet/pan. Cook until chicken is white and tender.
Once the dough is done top with sauce, chicken, and "cheese", and bake for 15-20mins.
The daiya cheese doesn't melt the greatest, but it is a healthy alternative to a soy/dairy/gluten filled cheese. It was totally worth it. Very yummy!
I also made hard boiled eggs to have during the week as a protein filled snack. Super easy to make.
Place as many eggs as you would like in a giant pot. Cover with cold water place on stove stop and boil. (There is an option to do these in the oven but my muffin pans were dirty). Once boiled remove from heat and cover with a lid for 10-15mins. Then place eggs in cool water to well...cool.
Once my hard boiled eggs were cooled I left them in the shell and placed them back in the egg carton. That way when I am ready to eat them all I have to do is peel and enjoy! You can check out
Nom Nom Paleo for my details.
I am going to pop back into my kitchen before work to ball up some protein balls. It's hard to say how much of each ingredient I put in but here's a rough estimate. All else fails just mix until a giant ball forms that you can break down into smaller balls :)
1/3 cup almond butter
1/4 cup agave nectar
1 scoop protein powder of your choice
1/4 cup of raisins
1/4 cup of slated peanuts (optional if you want to go paleo)
1/4 cup of gluten free oats(optional if you want to go paleo)
Or check out
Nom Nom Paleo
for a TRULY paleo recipe.
Enjoy everyone! I am off to work.
Blessings,
A