After my...I'll say...minor tirade on
Tuesday
, I've been doing some serious thinking about what I want for myself. For my health.
Following my sister in law's advice (I forgot to mention on Tuesday that she is a personal trainer) I planned out my day. I have typical plans for a day, such as work out, and then eat my 5 "meals" a day. What I haven't been planning very well though are my snacks. Typically, I'll have an apple and peanut butter after working out OR go straight into lunch. Then try and scrounge for an afternoon snack. I really put some diligent work into my meal planning today.
For breakfast I had 4 scrambled egg whites, with chopped mixed peppers + red onion, with 1 pouch of oatfit + 1 scoop of protein powder. For AFTER my lifting session today I had 3 hard boiled egg whites & 1 cup of grapes. It actually kept me pretty full until about 2pm when I was able to snag a lunch. Which was ground turkey with left over pasta sauce (I won't mention to tell you how long that's been in my fridge, but the expiration date wasn't until the 20th...looked good smelled good...choices were made.) and 2 cups of spaghetti squash. I lasted until about 5:15 where I got hungry again and I have just had my afternoon snack which was an apple with peanut butter. (I am addicted to peanut butter...or almond butter).
Anyway, as I am enjoying my snack I came across a VERY most interesting article.
(Pulled from Buzzfeed Ralph Lauren Photo Shoot)
It's about #CurvesinBikinis. You should see these photos. The women look AMAZING! One of the most interesting parts? The model featured in the buzzfeed article, Ashley Graham, she's a size 12. Defying the odds of "plus size" modeling Ashley's mission is to break myths about what it means to be a plus size model "'People think plus-sized models don't exercise, we do! But it's about health, not forcing my body to be something it's not meant to be!"
While I truly want to be some sort of secret ninja with awesome moves...and a great booty...It's SO MUCH WORK! And people judge you...all the time. No matter. Whether you're a size 22 or a size 2 everyone is going to have something to say.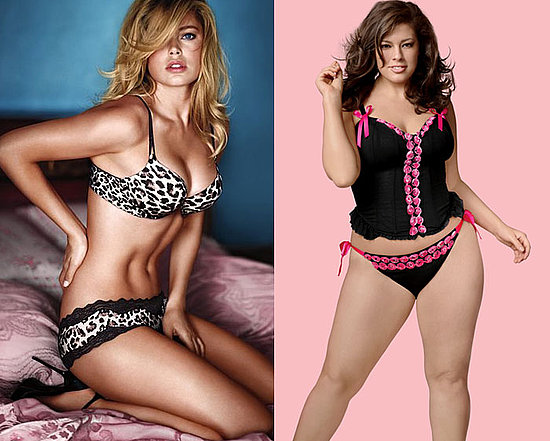 (Victoria Secret & Lane Bryant)
I've been on both ends of the spectrum. I've been a size 18. Now a size 8. People were nicer when I was an 18 though...I have to tell you. That's probably a different rant for a different day.
The main thing...is confidence. Do I have the confidence to be proud of how my body is now? It doesn't really seem like I do...which is crazy because I look good! LOL...
My goals.
Eat less sugar.
Lift 2-3 times weekly
Run 2-3 times weekly
Yoga & Meditate 1 time weekly.
Everything else is secondary. Oh...and learn some makeup skills...I'm still not very girly.
Tomorrow I'll tell you about how I mustered the motivation to stay at the gym when I forgot my headphones today! DUN DUN DUNNN!!!!
The STRUGGLE WAS REAL PEOPLE!!
Blessings,
A